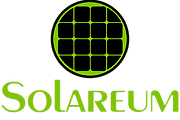 Solareum CEO and Director of Strategy at America Green Solar, Kenneth Reece, has been tapped to be the Moderator and Speaker at United Nations Youth Assembly on February 15th.  Also, Solareum Token becomes public on two exchange platforms: ForkDelta on Feb 15!!!
Blockchain technology and cryptocurrencies are taking us to a place we have never seen before. It almost feels like we have passed the 21st century and have some how pivoted into the future. We thought we had seen it all, but now there is a new solar cryptocurrency known as SOLAREUM.
What is Solareum?
From the name I'm sure you must have guessed it. Operating on the Ethereum Blockchain, Solereum is the first coin ever to have the backing of the industry which it serves. This is the solar and renewable industry.
The Solareum platform offers users discounts on all things solar including renewable items, solar panels, and even exclusive solar heating, and adds a bit of personal touch to it. The whole idea behind the Solareum token is to switch sides on who pays who for energy. Don't understand? Here it is – instead of paying for energy, energy pays you. Awesome, right?
Unlike other marketplaces, Solareum is taking it to a whole different level. It's going to become the "Amazon" of anything involving Solar and Renewable energy. How does it do this? By making use of mega-data and blockchain to enable end-users and solar companies connect on a human-level, and through this make real-time and accurate proposals.
The Big Break
Now hold on just one minute! We haven't gotten to the best part yet!
Have you heard of the United Nations Youth Assembly? No? Well, the Youth Assembly is an exceptional platform that fosters communication and the generation of partnerships between extraordinary civil societies, private sectors, youths, and the United Nations. It is the longest-running and largest youth conference at the core of global transformation, and is now in its 15th year.
Since its inception in 2002, the Youth Assembly has run a total of 19 sessions, and has been able to make a positive impact on the lives of nearly over 14,000 youths from more than a hundred countries from all over the globe, which has had a ripple effect that goes far beyond just the conference. And, has equipped delegates with the resources and knowledge that they need in becoming active leaders and citizens in their various parts of the world.
So, guess what?! The 2018 United Nations Youth Assembly is holding on the 15th of February, and guess who the Moderator and Speaker at the event will be! You guessed right! The Youth Assembly has tapped the CEO of Solareum, and Director of Strategy at American Green Solar, Kenneth Reece, to be the Moderator and Speaker at the event.
But we are not done yet! On the same February 15, Solareum is becoming public on two exchange platforms: ForkDelta and Stock.Exchange. Now that's what you call a big break!
Conclusion
Solareum is the first of its kind – offering its users access to discounts on all solar panels and renewable energy, all with a personal touch. One of the unique things about this platform is that, energy pays users and not the other way round.
But now, Solareum CEO , Kevin Reece has been invited to be a Moderator and Speaker at the United Nations Youth Assembly on February 15, the same day the platform goes live on ForkDelta . There's no better way to start the year!